Canadian General Freight Index
As the largest Freight Audit operation in Canada, Nulogx can help you improve the management of your freight spend and increase your bottom line with accurate and seamless Auditing & Analytics services.
What is the Canadian General Freight Index?
The Canadian General Freight Index highlights changes in the prices paid for freight transportation by Canadian shippers. The index represents general truck transportation, and excludes bulk, liquid and other specialty transportation services. Based on the largest database of actual freight costs in Canada, the index is the most comprehensive and accurate assessment of this important economic indicator available today.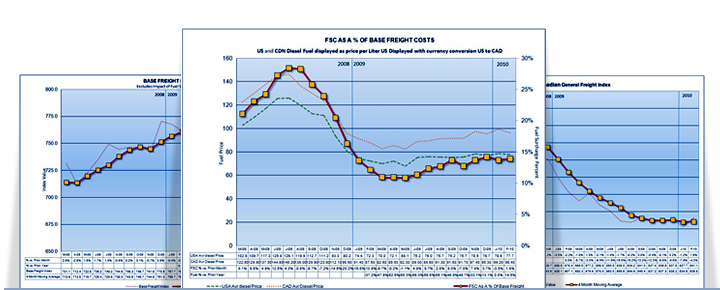 How can I get the Canadian General Freight Index?
Top level information is available free of charge to those who sign up for our monthly newsletter.
More detailed information is also available to all Nulogx customers. If you are interested in receiving more detailed information find out how to get started.
For more information on how the CGFI is calculated, please visit the Canadian General Freight Index web site.
How did it all start?
In September of 2009, Nulogx created the country's first index which is relevant to the Canadian transportation market. The executive team at Nulogx realized there was a lack of comprehensive information in the Canadian transportation industry in way of a transportation index relevant to Canadian shippers and carriers. Knowing the company held access to a database of over three million truck freight transactions and $1 billion in spend from existing clients, Nulogx was in a position to generate something of value to all those in the transportation industry…and so they did.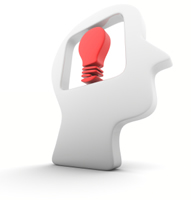 Who is behind it anyway?
Once the team at Nulogx had realized the opportunity to provide a valuable tool to members of the Canadian transportation industry, they brought in the expertise of Dr. Alan L. Saipe, President of Supply Chain Surveys. Dr. Saipe has held academic appointments at York University, and the University of Toronto and reviews the index monthly for validity. In addition, Nulogx also collaborates with all their customers who can contribute data in exchange for detailed analysis.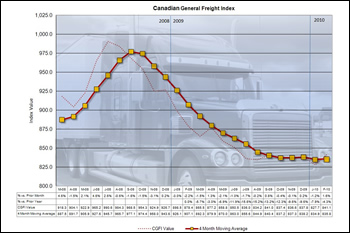 What's happening with it now?
Overall, the CGFI (published the last Wednesday of every month) is a useful tool that can be used to benchmark performance, develop operating budgets, and assist in negotiating agreements. It enables buyers and sellers of transportation to make important decisions based on facts not previously available. It offers a good statistical estimate of actual market behavior, highlighting changes in the prices paid for freight transportation by Canadian shippers.
Take the Next Step
Find out how our services work and how we can improve your transportation.