TMS-O Hosted Solutions
The Nulogx Transportation Management System Online, or TMS-O, is a hosted solution that supports all of the activities necessary to manage and execute the full lifecycle of the transportation process.
Shipping Smarter
Online Transportation Optimization SolutionsTMS-O starts by analyzing all of your shipments, either in a "Batch" or continuously throughout the day. It looks for opportunities to consolidate shipments, select the correct service, or convert LTL loads into multi-stop truck loads, and then create an efficient route plan.
TMS-O is also smart enough to consider Cross-Dock or Pool-Point solutions so you can design LTL consolidation programs.
All of these scenarios will consider all of your normal business rules – which means you don't need to change your operations or your customer requirements to benefit from using TMS-O.
And did we say it takes only a few minutes to run these optimization scenarios?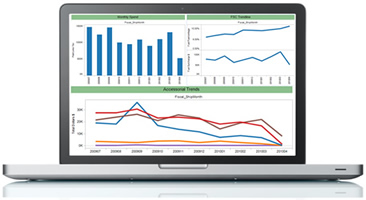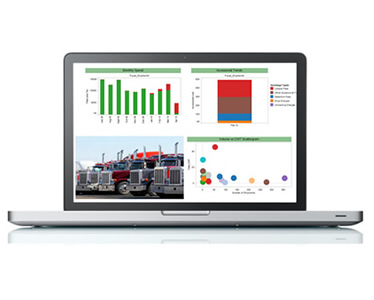 Using the right carrier
While TMS-O is thinking about how best to optimize the shipments, it is also considering all of the carriers available to you.   When choosing the "Best" carrier, it will consider the total cost including all accessorial charges, not just the base rates.
While corporate Routing Guides do a good job providing guidance to shippers, they don't always indicate the lowest cost carrier for each individual shipment.  TMS-O does.
TMS-O also makes Routing Guide management a breeze by either restricting the choices to corporate carriers, or running reports showing Routing Guide compliance and the potential savings possible.
TMS-O can also track carrier performance to help you select not only the lowest cost carrier, but also the one with the best service.
Instant carrier communications
Once your team has reviewed and approved the route plans with TMS-O's intuitive graphical interface, orders are seamlessly dispatched to your carriers with the click of a button.
Gone are the paper faxes & phone calls.  These are now replaced by Electronic Data Interchange (EDI), file transfers protocols (FTP), paperless fax, emails & web portals.  Also gone are the follow up calls, tracing requests and possibly even invoices.
Your team frees up time to focus on what is really important; working with your customers and becoming more efficient.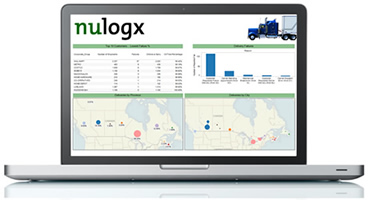 Central Intelligence
All of this data, shipment details, rates, carrier performance and so on, is captured in a single database.  With standard reports, ad-hoc queries or TMS-O's new interactive dashboards, you have easy access to all of it.
Not just data, but actionable information that enables you to understand what is really happening. You are given timely answers to questions coming from customers or senior management while helping you identify where your leverage points are for making improvements.
Without visibility you do not have control.
What's the impact of all this?
Most shippers will see a reduction in their freight expenses. Some of these gains are from simple actions such as choosing the right carrier each time.
Typically, more benefits come from improving consolidations and building multi-stop shipments. But the biggest gains come from using the information provided to understand your processes and designing better transportation solutions.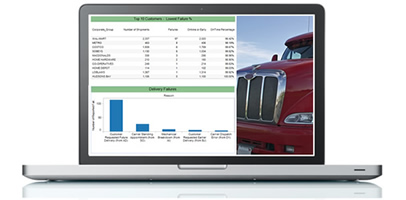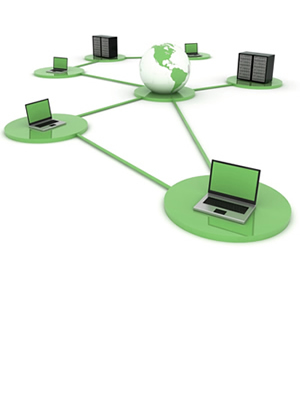 The Nulogx Network
Imagine having access to a wide array of reliable carriers – that's the nulogx network.
Another advantage of having a single instance application is that once we have connected a carrier for one shipper, it is far easier to connect that carrier with every other shipper on the network.  This reduces set up time for you and also provides you with easy access to new carriers and their rates.
The Hosted Advantage
We provide TMS-O on a "Software as a Service" or "Hosted" basis.  This means we run the application on a scalable platform in a very secure location.
It also means that you have no hardware to purchase and no applications to maintain.  All we need to do is integrate your system, and your carrier's systems, with ours so that we can pass information back and forth.
With our transactional pricing structure there are also no expensive licenses or maintenance agreements to purchase.
We call it "Save As You Go" – your cost to use the application is immediately offset by savings on virtually every shipment.
All the features you need
With over 20 years and millions of dollars invested in development, TMS-O has virtually every feature you need to ensure that it will meet your business requirements. TMS-O has been installed at a large number of shippers and logistics companies, so you can be sure that we have encountered just about every "unique" situation out there. Here are some examples:
Sophisticated cost allocation protocols:
Most shippers need to allocate their transportation costs and we have some of the most sophisticated protocols available.  Allocate charges by weight, miles, cube, cost or combinations of these to multiple costs centers and GL codes.  Even better, generate an accurate accrual before the shipment leaves your dock!
Margin Management:
Do you need to manage the difference between what you charge for freight and what you pay for it?  TMS-O is one of the few systems with separate, yet integrated, AR and AP modules that will allow you to track the margin for every shipment you make.
Dynamic Shipment Optimization:
Users have the option to run optimization processes either in batches, often once a day at a certain time, or continually.  By running them continually you can postpone a shipping decision until the very last moment to get the best solution possible.  This is great when you are continually receiving additional orders requiring shipping, or if your company works in a "same-day" shipping environment.
Multi-Modal or Multi-Segment Optimization:
Running complicated networks?  Are you using intermodal carriers, separate pick up and deliver operations, global shipping with multiple segments?  Temporary in-transit storage / consolidation or de-consolidation?  TMS-O can handle all of these advanced requirements.
Multiple Mileage Engines:
Want to make sure that you are using the most advantageous mileage engine for your needs?  TMS-O supports all of the leading systems and all of the popular or current versions.
Electronic Communication:
TMS-O has full electronic connect capabilities and can support all of the commonly used EDI standards.  For lo-tech environment there are web-portals and automated fax and email utilities that streamline processes and eliminate paper.
Take the Next Step
Find out how our services work and how we can improve your transportation.